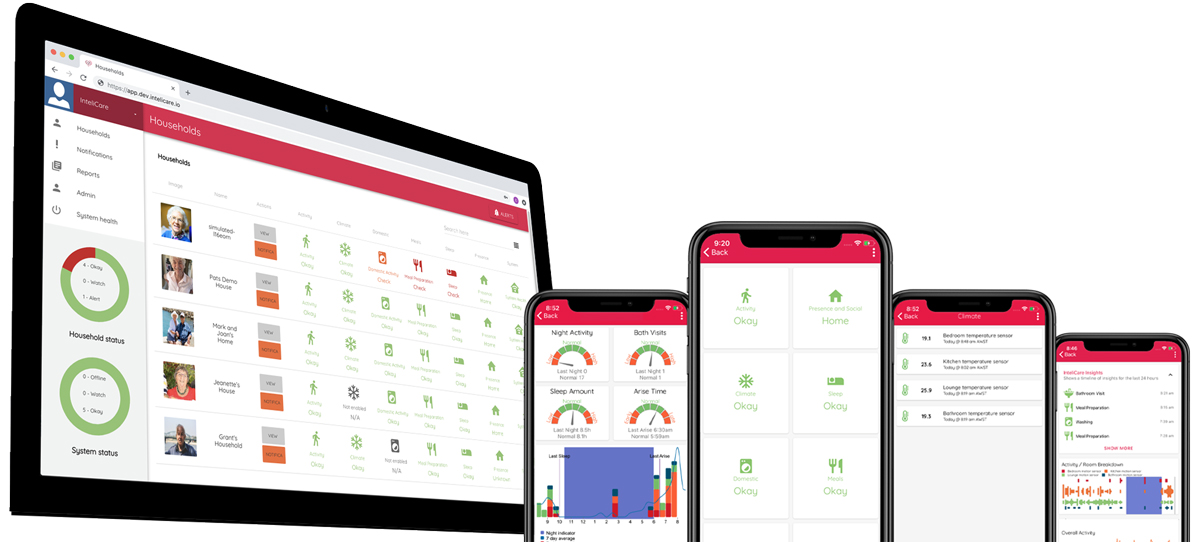 Our client is a purpose-built residential centre for people with disability who have been accused, but not convicted, of a crime. The current system of monitoring residents is a visual check. This provides no insight to their wellbeing or night time activity. The centre needed a system to monitor residents and reduce risks for staff.
Industry:
Elderly and Disability Care
Needs Expressed:
No existing technology to monitor residents
Decrease the risks to staff
Integration of alerts and data visualisation
A robust system capable of analysing data from multiple sources
Secure transmission of the data
Data storage and management
Benefits Realized:
Increased quality of care
Increased compliance to care plans
Increased safety for staff
Reduced risk to the wellbeing of the residents and staff
Customer Story
The centre provides housing for up to 10 people in a home-like setting, designed to enhance prospects of the being reintegrated into the community. To ensure the appropriate support for vulnerable residents, the facility needed a monitoring system to provide multi-dimensional data.
Background
Residents are not able to leave the facility and need monitoring without contact. The existing manual method for checking on sleeping residents puts staff at risk and disrupts the resident's sleeping patterns.
To provide for both the wellbeing and security of residents, they needed an advanced monitoring system able to collate data from multiple sensors throughout different areas of the centre.
Problem
Due to the nature of the facility, they need to comply with health regulations for caring for people with disability and the security regulations of a detention centre. This resulted in a struggle to find a system that could provide monitoring to meet both requirements.
Without a compliant system in the market, the new platform would need to integrate with multiple sensors from separate suppliers, then compile the information into usable data for the staff.
The new monitoring system would need to monitor:
activity during lockdown hours
bathroom visits
heart rate and respiratory function
It would also need to include data visualisation.
Solution
In 2019, InteliCare Pro was added to the centre to heighten its level of staff safety and duty of care to the resident.
Staff are now able to monitor activity from a distance, avoiding safety risks and reducing interruption to the residents.
InteliCare Pro's smart sensor system fed data to an AI engine to determine if the behaviour within a person's unit is normal.
InteliCare provided secure data storage and data management to enable data intelligence, proactive alerting, and data exports.
Through the InteliCare Pro dashboard, staff could instantly see the status of each resident and receive alerts to irregular behaviour and potential risks.
Implementation
InteliCare installed a range of sensors throughout the facility to track:
presence, activity, movement and location
sleep patterns and nighttime activity
bathroom usage
unit climate
entries and exits of buildings
resident wellbeing through vitals monitoring
The sensor suite was designed to be discreet and required no resident changes to routine or behaviour. Using non-contact, passive sensors, staff were able to monitor residents remotely, reducing the threat to their safety.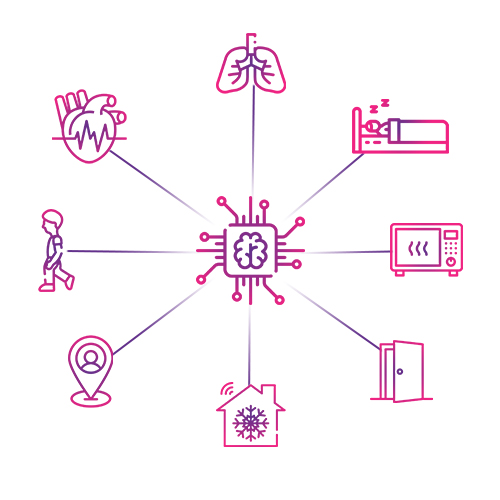 InteliCare's open-source architecture allowed for integration between different sensors from multiple manufacturers, giving unapparelled insights.
Solution in Action
Data from all sensors fed into InteliCare's AI, which was able to learn the normal patterns of activity and identify abnormalities.
From the desktop InteliCare Pro dashboard and mobile app, staff could monitor all residents from one remote location.
Staff received alerts to potential threats or irregularities, allowing them to act immediately to resolve the issue.
Normal sleep patterns
Irregular sleep patterns
Results
Staff reported feeling safer at work. They also developed a greater understanding of each resident's wellbeing.
InteliCare Pro enabled protection staff at night while maintaining a duty of care for residents.
"These new sensors, coupled with the InteliCare Pro dashboard, materially increases the safety of our residents, who are some of the most vulnerable in our community, and our staff."
Within a year of using InteliCare Pro, the centre renewed their contract with InteliCare seeking further insights into resident behaviour and more robust, secure methods of tracking.
Due to InteliCare's open architecture, it was possible to meet the evolving needs through the integration of a cutting edge radar sensor and health monitoring telemetry into the existing system and incorporate them into the data analysis and alerting system.