Image: ECHO Community Services
ECHO Community Services has provided services to seniors and people with disability living independently since 1982. The service uses risk reduction and monitoring technology to keep older people in their own home. ECHO found clients were not using current technology. This left them exposed to health risks and more likely to require full-time aged care services.
Customer:
ECHO Community Services – Perth, WA, Australia
Industry:
Aged Care
Needs Expressed:
Clients move to aged care, hospital or other providers because customised care planning is difficult
Clients not using existing technology with duress systems and wearables
Difficult to attract and retain enough qualified staff to meet rising demand
Clients are worried they can't live at home independently
Benefits Realized:
Increased quality of care
Increased compliance to care plans
Increased productivity of care staff
Decreased risk of undetected falls
Customer Story
ECHO prides itself on providing quality in-home care based on a "MY MUM" approach. In short, if it's not good enough for 'my mum' (or dad), then it's not good enough for yours. To give families peace of mind and provide the highest standard of care, Echo needed a way to better monitor the wellbeing of their clients.
Background
As a highly regarded home care service provider, ECHO has continually evolved its offerings. It has readily adopted new technologies and platforms in the home to support older people live and stay healthy. ECHO needed a service that would:
alert caregivers to an accident
actively prevent accidents
monitor wellbeing
not require activation
Problem
The ageing population will soon overwhelm the government's aged care services. ECHO wanted to supply quality services to keep people in their homes and reduce the need for full-time care.
Flaws in the existing technology ECHO used had led to a false sense of security. There was no prevention monitoring, which could mean an increased risk of a health incident. The technology relied on clients accepting and participating. This was not happing in most cases.
duress alarms don't reduce the risk of a fall
in 80% of falls, people with alarms didn't use them
care alarms are often out of reach or not charged
people felt that cameras invaded their privacy
ECHO's clients are active and independent. They are not tech-savvy, nor do they feel they need to be monitored. ECHO sought a solution that needed minimal or no client involvement while providing advanced analytics that could identify health risks.
Solution
In 2019, ECHO introduced InteliCare's InteliLiving product to help clients remain independent and reduce the risk of a fall or accident.
InteliLiving is a smart home monitoring platform that connects small sensors in the home to an advanced learning system that identifies potential risks, such as:
failing to get out of bed
household climate
reduced domestic activities like preparing meals or doing the washing
social isolation
InteliLiving runs 24/7 in the background and doesn't need to be activated by the client. Family members and caregivers can use the InteliCare app to access information and receive notifications about the person's wellbeing, activity, and home environment.
By supplying InteliLiving to their clients, ECHO is  helping people:
identify wellness issues in advance
reduce the need for hospital stays or full-time aged care
remain independent and in their communities for longer
reduce the response times in the case of an accident
reduce the stress of being vulnerable and alone
stay connected with their family
Implementation
InteliLiving ran a pilot program with 70 of ECHO's clients. They installed smart sensors to turn each person's home into a smart home. These sensors monitored activity in the home. Within a week InteliCare's AI engine learned the normal routines of the people in the pilot.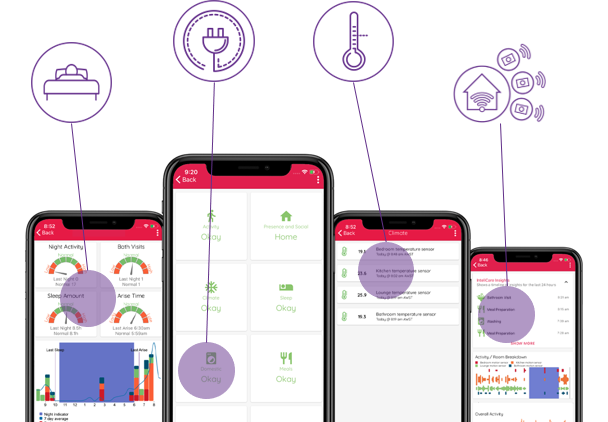 From the InteliCare app family members and care givers of each person received:
daily notifications to say they were ok
alerts if there was something out of the ordinary
24/7 access to activity and home information
peace of mind that the person is being looked after
Solution in Action
"I feel protected, I know that my children know that I am ok."
– Tina
"Our elderly mother lives at home alone as she prefers the independence this situation provides her. InteliCare provides me and my family with an insight into Mum's activities and gives us comfort that she is safe at home."
– Nick
"It's nice knowing that someone else is always there – somewhere in the background – able to keep an eye on me. I don't suffer the stress of being alone anymore."
– Duncan
Results
InteliLiving gave ECHO the ability to extend independent living for their clients, prolonging their active and community-based lifestyle.
InteliLiving has been actively identifying health risks to ECHO's clients and alerted carers to a number of falls. Resulting in reduced response times.
During the coronavirus pandemic, ECHO supplied InteliLiving to seniors isolated from their families. This ensured they were checked on. Their families could monitor their wellbeing, despite not being allowed face-to-face contact. InteliCare's partnership with ECHO was a powerful contributor to the safety of their clients during the coronavirus restrictions and was featured on Channel 9 News.
Watch the story

"For people that are isolated, this is a lifeline, this is really important"
– Jonathan Smith, CEO of ECHO Community Services
By supplying InteliLiving to clients, Echo has positioned itself as a leader in-home care services and now has a differentiator in the market.